October 15, 2023
Sporthilfe LOTTERIEN-GALA "Night of Sports"
Wiener Stadthalle, Austria
Ocober 20, 2021, Wels, Austria
Auction: Metal painting 'All Through' mirror polished stainless steel
The net proceeds benefit the work of the non-profit social organization 'Die Oberösterreichische Tafel', for which help and humanity for the needy are a matter of course.
2020
Wall Sculpture of Stainless Steel for a Villa in India
One of two elaborate works of art for a client from Deli.

The wall sculpture is mounted along with a wall mirror inside a wellness area.
Oktober 2019
Every single year
Since 2004, over 180 trophies have left our Gahr studio. Each vintage has its own character. Each sculpture is a handmade unique.
2018, 2019
Stainless Steel Sculpture 'Cracks':
Metal Art for a Penthouse in Moscow
For this work of metal art, we even had to remove the insulation of our workshop. The sculpture reached an assembled height of 8.65 meters and was mounted in the spring of 2019 in Moscow. A sliding door wardrobe in the same style complements the sculpture.
Jänner 2019
Color Me Beautiful
One of our biggest works gets the final tarnish colors. This room divider with integrated ethanol fireplace was installed in Moscow.
11/2/2017
Austrian Sportman of the Year
'Night of Sports' in Vienna
Marcel Hirscher and Anna Gassner are the 'Athletes of the Year 2018'. The trophies for the awarded athletes are made by Stefan Gahr since 2004.
10/27/2016
Welding Performance at the 'Sportsman of the Year'-Election
Austria Center / Vienna
Welding performance to the strains of Ollie Gabriel's 'Running Man'.

The trophies for the awarded sportsman and sportswoman are made by Stefan Gahr since 2004.
The show was broadcast live at ORF1 (leading Austrian TV program) every year.
2016
Aspen, Dallas, New York: The year begins with an American touch
'The Giving Tree' (300 x 100 x 10 cm) made of polished stainless steel goes to Dallas.

Another wall artwork by Robert Gahr hangs in Aspen.
And finally Stefan Gahr made a large wall artwork for a customer from New York in April.
5/28/2016
VELUX EHF FINAL4, The Final of the Handball Champions League
Lanxess Arena / Cologne
'Our' trophy caught a kiss by FC Barcelona 2015
2015
Trialsitting Before Shipment to Nentucket!
Stefan Gahr makes the final test

After sending several artworks to Shanghai, Bahrain, London, Wales, Monaco, Bergen (Norway), Madrid, Mallorca and of course to german-spoken countrys over the last years, we delivered our Art-Furniture 'Quetsch' to the island Nentucket (Massachusetts).

In 1985 Herbert Gahr had already delivered a garden fountain to Mexico and assembled on site. The technique of plastering using a ketchup bottle, which has been applied there, inspired him to weld one line after another to get a unique surface. A technique we still use today in many different ways.
4/24/2015, 10/31/2015
Exhibition of Selected Works
Bischofshofen/Austria
4 of 10 exhibited works: 'Poles of Inspiration', 'Exposure', 'The Beauty' ,'Resurrection Christ'
2014-2006
UNIKATE-WELT (Unique Pieces) at the Fair in Vienna
September 2012

ServusTV coverage in celebration of the 1st sculpture for Shanghai
2012, 2019
Six
L

O

V

E

&

P

E

A

C

E

Sculptures will Make the World More Colorful!
Shanghai, Mallorca, Frankfurt, Hamburg, Cologne, Augsburg,
2012
The 3. Generation?
2012-1999
Music Feast every May 1st at our Studio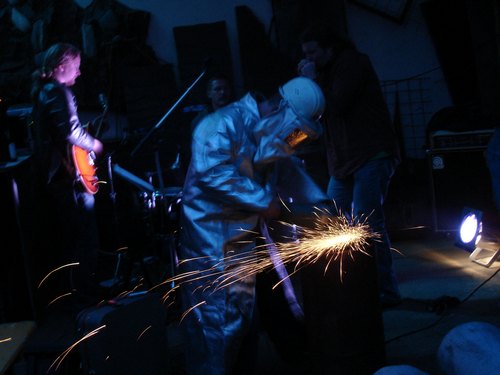 Many local bands have played at this small, but fine feast.
4/1/2011
Re-Opening THE KLUB
in Bischofshofen, only 3 Minutes Walk from our Studio
The first bar, completely furnished by ATELIER GAHR!
Bar, stools, lamps and wall decoration welded in stainless steel.
Overall concept: Robert Gahr

5/31/2010
Welding-Performance in Front of 19.000 Visitors
Lanxess Arena / Cologne
8/14/2009
Unveiling of our Roundabout-Sculpture for Krumpendorf in Austria
The crosspoint of the city's name 'KRUMPENDORF' and the symbolic lake is the geographical location of the city. Welded in grinded steel and blue polished stainless steel. The roundabout sculpture is 8 meters long and 6 meters high.
2008
Exhibition 'Lange Nacht der Museen', Salzburg, Austria